Müller-Elektronik presents the compact ISOBUS terminal SMART570® as manufacturer-independent entry-level device
Müller-Elektronik reports the start of series production for the new ISOBUS terminal SMART570®. The very compact entry-level device works independently of the manufacturer and is designed to be particularly user-friendly with its easy-to-use functions.

The operating and display unit SMART570® complies with ISOBUS standard ISO 11783. As a universal terminal (UT) it can be used on all ISOBUS implements, regardless of the manufacturer. The terminal impresses with its small and compact design. In addition to the convincing ergonomics, the terminal scores with its low weight and easy cab integration.

The SMART570® is equipped with a capacitive 5.7-inch display for the optimum display of the connected implement, even in bright sunlight. Work screens with up to 12 softkeys can be shown on the display. The terminal is operated either via touch screen, membrane keyboard or rotary encoder.
With the protection class IP67 the SMART570® can be used in an extended temperature range from -20 to +65 degrees Celsius and even outside of a cab. As a result, this terminal is ideal for special applications, such as in orchards or vineyards and even in the special machine and construction vehicle area.

Müller-Elektronik offers customised branding of the start screen and stickers for the SMART570®, even for small numbers of units.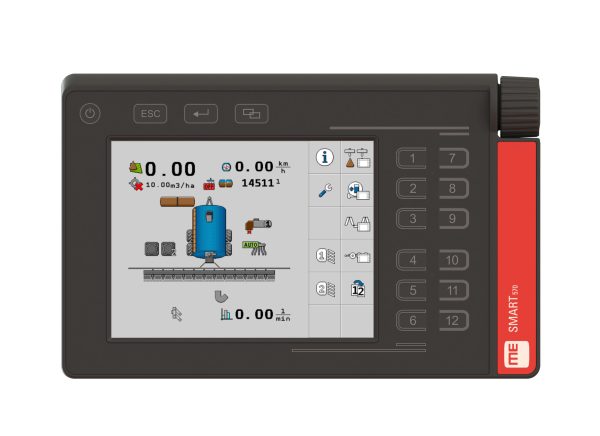 Download press information:
PR "SMART570® verfügbar"
---
Image SMART570®

JPG, 26.05.2021