Right from the beginning, since more than 20 years, Müller-Elektronik has been actively involved in the development of ISOBUS. As a member of the Agricultural Industry Electronics Foundation (AEF), we played a significant role in establishing the norm and the technology. Still today, we are actively collaborating in numerous project teams at the AEF and are therefore designing the ISOBUS functionalities of tomorrow.
We use our many years of experience to make our ISOBUS products reliable, efficient and powerful. ISOBUS is firmly established as a basic principle in our development DNA. As a result, we have realised ISOBUS controls for virtually any implement type during the course of our company history.
ISOBUS – The Key to Success
Electronics: The key to making implements more efficient, precise and economical. Compatibility between the tractor, terminal and mounted implement is an important requirement to ensure that the components work together properly. ISOBUS (ISO 11783) represents an important basis for this.
As a norm and technology, ISOBUS defines a standard, i.e. the die "language" between the tractor, terminal and mounted implement. Therefore, an ISOBUS-compatible terminal can be used to control multiple ISOBUS-compatible mounted implements – regardless of the manufacturer!
The AEF Functionality Concept
In addition to ISOBUS, the AEF has developed guidelines for individual functionalities and described them in a functionality concept for the purpose of manufacturer-independent operation.
AEF members, such as Müller-Elektronik, follow these guidelines in the development of new ISOBUS products. The following must be noted: The smallest common denominator always determines the collaboration. Only functionalities that are supported by all of the components can actually be used.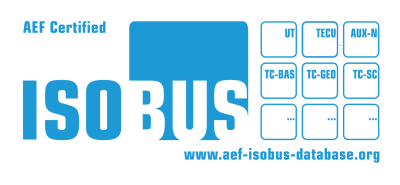 ISOBUS products certified by the AEF are listed in the AEF ISOBUS Database.
The database provides a quick overview of which implements support which functionalities and other ISOBUS products with which they are compatible.
This is a huge help in making a selection. Time- and cost-intensive research from other sources and inquiries with manufacturers are a thing of the past. The service sector also benefits from the AEF ISOBUS Database for performing analyses and providing solutions.
Customised ISOBUS Solutions
Our product range, including individual solutions, adaptations and configurations, comprises ISOBUS controls, terminals, and precision farming sensors, just to name a few. Müller-Elektronik also offers functional modules such as the Universal Terminal (UT), Auxiliary Control (AUX), Task Controller, (TC), Section Control (SC) or Tractor Implement Management (TIM).