Innovation. Experience. Success.
What drives us? New ideas, advanced technologies. In a nutshell: Innovation. This is why industry experts associate the name Müller-Elektronik with terms such as trailblazer, trendsetter, pioneer. This is precisely our key to success. Since more than 40 years. Today, we focus on the development of individual system solutions for agricultural machinery manufacturers from the OEM sector. Our company received an additional boost in 2017. This is when we became part of the Trimble Group, a global market leader for GPS technologies.
This is why OEM customers trust Müller-Elektronik
As a manufacturer of systems for surveying technology, Trimble was founded in 1978 with its headquarters in Sunnyvale, USA. The company is one of the leading providers of high-precision GNSS technology. Trimble software and hardware solutions as well as services are used in many different sectors, from agriculture to automotive engineering to the construction and transport sector.   
Since 2017, Müller-Elektronik is part of the Trimble Group in the agriculture business division. The focus is on the development of innovative technologies for targeted management of agricultural fields through networking of intelligent agricultural technology and modern data technology.
Trimble solutions are meanwhile used in more than 150 countries worldwide.  Subsidiaries in more than 40 countries and a highly qualified network of dealers and sales partners ensure optimal customer support.
As Heinrich Müller converted a pocket calculator into a hectare counter at the end of the 1970's, he laid the foundation for a successful family-run company, which is now known as a pioneer and leading innovator in the field of agricultural electronics. The development of an on-board information device for Claas in 1984, which was produced until 2009 and sold more than 29,000 times, was one of the first milestones in the company's history.
1977 to 1990
The beginnings
The Müller-Elektronik success story began in 1977, as Heinrich Müller registered the business for the "industrial manufacture and marketing of area measurement devices". As of 1984, it grew rapidly into a medium-sized company. The AGRITECHNICA trade fair, which first took place in 1985, was an excellent opportunity for the young company to present itself to the public. In 1987, the company changed its name: from then on, it was called Müller-Elektronik GmbH. At the same time, the engineering firm Buschmeier was founded by Rudolf Buschmeier. These two companies were to form the basis for future development. In the spring of 1989, the move was made to the current headquarters, Franz-Kleine-Str. 18 in Salzkotten, Germany. Since the fall of 1989, the company also takes on trainees.

Milestones and Awards:
1987: UNI-Control with chipcard – AGRITECHNICA gold medal
1989: Computer aided farming with GPS – Goldmedaille AGRITECHNICA
1991 to 2000
On course for growth
The facilities rapidly became too small for the meanwhile more than 50 employees, and therefore the building was expanded in 1993. In the same year, a merger took place between the company Müller-Elektronik GmbH and the engineering firm Buschmeier. From then on, company activities were conducted jointly as Müller-Elektronik GmbH & Co. A further milestone was the DIN/ISO 9001 certification in 1995, which describes quality-focused mindset and work, and documents this to the outside world. Since then, inspections and audits take place on a regular basis. In terms of technological progress, ME has always been able to perform exceptionally well. It is not for nothing that the company is considered a trailblazer and pace-setter in the field of agricultural technology. ME's efforts towards the standardisation of the Landwirtschaftlichen BUS-System (LBS) [Agricultural BUS system], the forerunner of today's ISOBUS, were honoured in 1999 as Rudolf Buschmeier was awarded the Max-Eyth commemorative coin.

Milestones and Awards:
1993:UNI-Pilot LBS terminal – AGRITECHNICA gold medal
1995: CEBIS electronic system for combines
1997: LBS – Control and LBS implement controller
2001 to 2010
We became international
With the founding of the subsidiary ME-France in 2007, ME kept up with growing interest in the rest of Europe. ME-France acts both as a sales branch and as a development office, and can rapidly react to the regional requirements. The year 2009 was marked by a change at the top level: after more than 30 years, founder Heinrich Müller withdrew from company management and handed over the business to his son Christian Müller. Since July 1st, 2009, he runs the company together with Rudolf Buschmeier. The demand for ME products is also high on the other side of the pond, so ME founded subsidiaries in both South and North America in 2010.

Milestones and Awards:
2001: ISOBUS protagonist: BASIC TERMINAL for ISO-11783
2003: CROP-Meter – AGRITECHNICA silver medal
2005: ECO-Reflex for Vineyard/Orchard Sprayer
2007: Parallel guidance system/SECTION-Control/Track Guide
2007: FIELD-Nav – AGRITECHNICA silver medal
2009: FarmPilot Internet portal
2010: Winner of the "Große Preis des Mittelstandes" (Award for Medium-Sized Companies)

2011 to 2017
The second generation
In June 2011, the final generational change took place: Rudolf Buschmeier handed over his part of the business management, leadership of the development department, to Carsten Jochheim, the son-in-law of founder Heinrich Müller. He now runs the company together with Christian Müller.
The number of employees continued to rise. To make space for growth, a new building was erected in 2013, which offered 6,000 m² more space for production and storage areas as well as the development department. The new premises were occupied at the end of 2013. As a result, the office, production and testing area at the Salzkotten location grew to almost 15,000 m².
In November 2015, the European Society of Agricultural Engineers (EurAgEng) presented Heinrich Müller with the "EurAgEng Award of Merit – Innovation into Practice". The award honours individuals who have made an outstanding contribution to the development of agricultural engineering and have produced groundbreaking innovations with European and international significance.

Milestones and Awards:
2012: TOUCH1200®, ISOBUS terminal, can be used in portrait and landscape format
2013: ISOBUS weighing system, AGRITECHNICA silver medal
2014: TRACK-Leader AUTO®, high-precision automatic steering system
2015: PLANTirium® sensor, AIRidium® system
"EurAgEng Award of Merit - Innovation into Practice" award
Since 2017
A big step forward
The year 2017 brought several changes and new potentials. Since July 1st, 2017, Müller-Elektronik belongs to the Trimble corporation, a global market leader for GPS technologies. Synergy effects will be leveraged through the merger. The focus of Müller-Elektronik is increasing on individual ISOBUS solutions for OEMs with the aim of further globalizing the company.
In September 2017, Krauss Electronic Support GmbH moved to Salzkotten where it merged with the PRSMD department, which has meanwhile successfully began its work.
A further bundling of competencies and structures followed in August 2020 with the merger with WTK-Elektronik GmbH. The branch of Müller-Elektronik GmbH, located in Neustadt in Saxony, has been anchored in agricultural technology for almost 30 years with a focus on OEM-specific automation and ISOBUS solutions as well as cable assembly, especially for the caravan industry.
Today, ME employs about 440 people group-wide, of which approx. 30% work in the areas of research and development.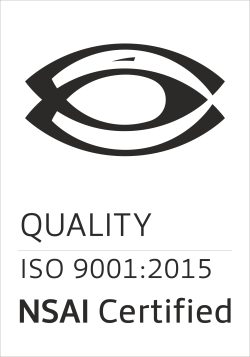 Certification in accordance toDIN EN ISO 9001:2015
Certification in accordance with the quality management standard DIN EN ISO 9001:2015 ensures continuous testing, optimisation and documentation of requirements and processes.