Customized solutions:
Application Fertilizing
ISOBUS SLURRY-Controller
Maximum scope of functions
for the ISOBUS slurry tanker
ISOBUS SLURRY-Controller serves as a control and regulating device for slurry tankers. In addition to forward speed-independent regulation, the system also offers a multitude of specific functions.
All of the relevant information for the driver is visible at a glance on the work screen, and the filling,
application and chassis areas can be directly selected. Especially when changing from field to road, this facilitates the operation and prevents operating errors.
The system can be individually adapted – whether it be for a simple slurry tanker or a complex solution. The great flexibility of the hardware and software guarantee a compatible, stable and state-of-the-art
system on the long term. The ISOBUS TASK-Controller ensures perfect documentation via ISO-XML.
Product advantages:
AEF-certified ISOBUS system
Configurable software
NIR sensors available
Integrated chassis control and tyre inflation system
Comfortable operation of the filling arm
ME-Configurator
The ME-Configurator facilitates the configuration of the functional scope of the implement:
The terminal display can be customised to suit individual needs, softkeys and screen elements can be easily arranged on the interface per drag and drop. The implement functions can be edited in each menu. The assignment to specific hydraulic functions is pre-defined.
This tool can be used with different authorisation levels. The unrestricted expert mode can be used after extensive training from Müller-Elektronik.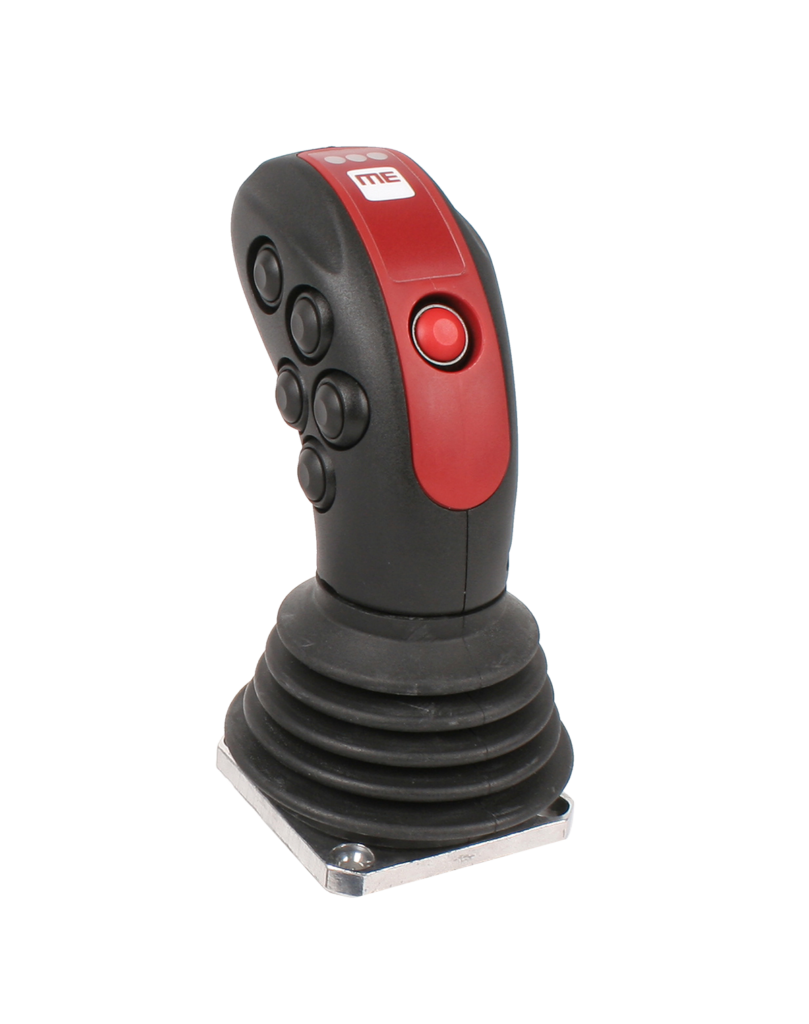 ISOBUS-Joystick PRO
The ISOBUS joystick PRO is movable and can be controlled via two proportional axes. This considerably facilitates the control of certain functions, such as, for example, the adjustment of the filling arm when filling a slurry tanker.
With nine buttons and a level switch, the user can change between two levels. This enables the actuation of a total of 18 functions on the ISOBUS job computer.
It is possible to attach a logo.
ME Downloadmanager 2 & Downloadbox
The Downloadmanager 2 is a programme with which you can update the software on your job computer and other components, such as EDS modules.
If you want to update devices using terminals without an USB connection or foreign terminals, you cannot use the Downloadmanager 2 alone. You will also need a Downloadbox. The Downloadbox is a tool which you can connect to a terminal using different adapter cables in order to update devices.
The user interface of the Downloadmanager 2 is thus always the same in all three versions.
Downloads
Downloadmanager 2 & Downloadbox
---
ME Downloadmanager 2 v3.4.3 / Downloadbox v1.5c (USB flash drive for Terminal and Downloadbox) Note: Exclusively for use with files in the container format (*.mec files). Please unpack the ZIP archive onto an empty USB flash drive. Follow the instructions in the

ZIP, 25.04.2022

ME Downloadmanager 2 v3.4.3 / Downloadbox v1.5c (Setup Windows PC) - Note: Exclusively for use with files in the container format (*.mec files). ›

ZIP, 25.04.2022
SLURRY-Controller MIDI 3.0
---
Software SLURRY-Controller MIDI 3.0 incl. Release Notes - V.03.06

ZIP, 23.01.2023